Today is Boris' 8th Birthday! This is the earliest photo that I have of him. It was taken the first time we saw him, when he was 6 weeks old. So tiny and sweet! We had to wait 2 more weeks before we could take him home. It was a long drive up to PA and back to get him, and he peed on my lap on the way home, but it was worth it.
His mother was Sophia Ain't Misbehavin and his Dad was Cherokee Dakota Robert (who won best Bulldog at Westminster 4 years in a row)
The photo on the left below is our first Bulldog, Ms. Fatty. The look on her face sums up exactly how she felt about having a new puppy in the house.
The photo on the right is Boris and Harlow, taken during the first week after we bought Harlow home.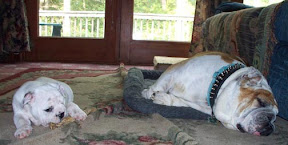 These two are great buddies though and Boris is alot more playful now with Harlow around. She is tough though and even when she was tiny she was ready to play with the big guy.
Boris weighs in at 75 pounds and Harlow is now 57 pounds!